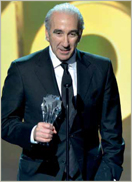 On the wall behind Wits alumnus Gary Barber's desk in Hollywood is a giant image of Metro-Goldwyn-Mayer's roaring lion that was filmed for the logo. It's fitting that a man from Africa should be leading a company that is synonymous with the iconic lion. In this Q&A we speak to chartered accountant Barber about life and times in Hollywood.
What took you to Los Angeles?
I was working for Price Waterhouse in Johannesburg when I applied for a transfer to Los Angeles and got it. That was 31 years ago. I thought it was a great opportunity to embark on a new adventure and learn the American way of doing business. It meant writing the board exam again over there, which I did. I had no aspirations to be in the entertainment industry at the time and I knew very little about the business other than enjoying going to the movies. Growing up in South Africa there was no television until 1976 and my first experience of the movies was watching 16mm and 35mm shorts like Hawaii Five-0 and The Mod Squad and going to the old movie houses like the Astra and the Victory in Orange Grove, where my family lived before we moved to Linksfield.
How did you land up in Hollywood?
It so happened that my first client at Price Water- house in Los Angeles was Columbia Pictures. The business stimulated my interest from the outset and after three years an opportunity came up to enter the entertainment business. Soon thereafter I joined Vestron, the largest independent video company in the US at the time. I seized it and became president of Vestron International Group. One thing led to another, my contacts grew, and I was asked by a producer who subsequently became Chair of 20th Century Fox to join a new company called Morgan Creek Productions as Vice Chair and Chief Op- erating Officer, which I did from 1989 to 1997. A year later I co-founded the production, finance and distribution company Spyglass Entertainment. One of our first movies was The Sixth Sense in 1999, which did really well.
How did your MGM position come about?
As you know, MGM is one of the most famous names in film and television production and distribution, but when I joined the company in December 2010 it was emerging from a pre-packaged bankruptcy and restructuring. We were amongst the initial bidders but when the debtors could not get a good enough price, they called for presentations to get the compa- ny back on its feet and they liked our presentation, so here I am.
Things have improved dramatically at MGM, and in 2012 we produced the 23rd James Bond adventure, Skyfall, together with Eon Productions and Sony Pic- tures. It made over $1.1-billion at the worldwide box office and became the highest-grossing Bond film of all time. A month later The Hobbit: An Unexpected Journey, which we financed with New Line Cinema, was released and surpassed $1-billion worldwide. This made us the first studio ever to have back-to- back billion-dollar releases.
What is your favourite movie of all time?
Definitely The Godfather – it's an epic family saga with unbelievable performances from Marlon Bran- do, James Caan and Al Pacino, and great music.
I read the novel by Mario Puzo when I was still in South Africa and I have seen the movie countless times since its release in 1972. I recently watched it again on Blu-ray. The Godfather Part II is another favourite of mine – it's almost as good.
What do you like about movies?
They take you into a different space where you can experience all kinds of emotions, and for two hours you can escape from whatever else is happening in your life.
What does it feel like to be the head of MGM?
It is a great honour and I still pinch myself some- times, because here is this South African boy who used to go to the movies in Orange Grove and watch that lion roaring. MGM symbolises Hollywood and moviemaking and it has such a rich and wonderful tradition going back to 1924. To sit at the top of MGM is quite unbelievable.
Has it changed you?
If you mean have I gone Hollywood, no, I haven't. My family would never let me. I was always taught that the most important lesson in life is to remain ground- ed, and I think I have. In this business it's important to leave your ego at the door. It goes without saying that there are plenty of Hollywood events that I need to attend, and there are people who try to ingratiate themselves, but I keep a level head. Running this business is not about me, it's about doing what's right for the company and the shareholders. I'm fortunate to have a beautiful family life, which also grounds me. I also have good friends who would definitely tell me if I'd gone Hollywood! I still have my South African friends from when I was very young, as well as my high school friends – I matriculated at King David Linksfield in 1974 – and Wits friends. It's good to see how many South Africans have done well for themselves over here and elsewhere in the world.
When were you last in South Africa?
Four years ago when we shot Invictus with Clint East- wood, Morgan Freeman and Matt Damon
[Clint, Morgan and Matt to Gary]. I visited all my old pals and went to all my old stomping grounds and it was great. I was really impressed with how Joburg and Cape Town have developed and it was wonderful to see the new soccer stadiums. When I was young I was really into my soccer and played for Wits.
Where is home for you and what are your interests outside of business?
In Los Angeles I have a place near my office in Beverly Hills but home for my family and me is in both LA and La Jolla – which is absolutely beautiful. I have three daughters – Teri, Dana and Romy – and I have inherited a stepdaughter, Nicolette, and step- son, Andrew. My wonderful wife Nadine is American and everything for us is about family and sport. My mother and siblings also live in the US. My girls all played soccer and we go to all the sports games – we're huge supporters of the Lakers and Dodgers. I also own racehorses – they are amazing animals and I love the action and adrenaline of horse racing.
What is your advice to anyone wanting to move to Los Angeles today?
Emigration today is not easy. You have to temper your expectations and pay your dues. I came here with a suitcase and worked my way up by working extremely hard. I believe that good things come to those who work hard. I've also always been a sponge for knowledge and I never said no to any of the jobs my company asked me to do, no matter how big or small.
What is the most important piece of life advice you can offer?
To always keep your word. My word is my bond; I live by this, good or bad; and so far it has served me well.