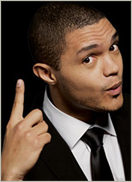 The New South Africa, where is it, you might ask. To find it, look no further than South Africa's rising cult of stand-up comics. From the Jewish Xhosa Boy to the Halaal Doctor who chose smiling over surgery, they're a diverse bunch of everything and they laugh raucously, which is the South African way.
Take your pick – Mark Banks, Nik Rabinowitz, Trevor Noah, Loyiso Gola, Riaad Moosa, Tumi Morake, Marc Lottering, Barry Hilton, John Vlismas, Tats Nkonzo – the list goes on and you can tell by their names what a mixed bag they are; a mixed bag of South Africans who love their country and claim the right to free speech, which is why they poke fun at everything from apartheid to the rainbow nation, call their shows 'Blacks Only' and parade the full herd of holy cows around the million rand kraal built for President Zuma's beasts.
Ask any of the laugh-out-loud line-up whether they write their own material and they'll chorus "Of course not! Our politicians write it for us." From the malnourished Juju to Aunty Angie the Educationalist to Helen Godzilla of the outdoor toilets that refuse to go away to the World's Most Secure Kingdom of Nkandla, we are truly blessed.
And while the ANC's town criers insist on appearing on national television demanding respect, we hear Loyiso Gola laughing, and referring to the grand gathering of the clan in Mangaung last year as "the Big Chisanyama". For the non-South Africans, chisanyama is a big braai or barbecue, for it is well known that all those attending like to meat.
From the thriving sport of corruption to the love of all things bright and Armani to South Africans who have fled to other countries, the stand-ups are onto it.
"Ek's 'n doos (pronounced Exodus) from South Africa," is the name of a Mark Banks show that poked fun at locals living abroad where they say they feel safer and their children can get a good education.
Of education in South Africa Loyiso Gola has this to say: "Minister Angie is right, we must not deliver school books to learners; it's just perpetuating white capitalist culture and western imperialism. What we must do is focus on Karl Marx, and just read the important parts because we are very, very busy." Very busy getting up to all sorts in the name of the struggle, because as he explains: "A true revolutionary knows which side his bread is buttered".
Nik Rabinowitz – the Jewish Xhosa boy – he's Jewish, fluent in Xhosa and the author of 'Long Walk to a Free Ride'- says his favourite stand-up shows are for worthwhile corporate entities such as the South African Coalition of Mining Magnates and the South African Brotherhood of Jet Lagged Egomaniacs.
One of Rabinowitz's personas is a deep-thinking female Jewish Xhosa kugel named Portia Dlamini-Rubenstein who loves "the double berrel and fayshen and to trayvel a lawt".
Trevor Noah – his father is Swiss, his mother is Xhosa – says the more he travels the more he realises how much he loves South Africa.
On returning from New York he was asked what he thought of it. "It's different, people aren't friendly unless you have a pet. Even on the subway no one greets you. It could be an unbelievable think tank of ideas and exchanges but no one talks to each other. They even warn you never to talk to anyone on the subway."
This is so un-South African where everyone is friendly, talks to strangers and waves at other cars on the open road.
Ours is a beautiful laugh-a-minute land where you can talk to anyone about anything, including black hairstyles and BEE. Just keep the conversation superficial because as Tumi Morake says: "Both are window-dressing, you mustn't go too deep."
Morake doesn't believe in corporal punishment for children because her husband is from Ghana: "If I hit my children it might be misinterpreted as a xenophobic attack."
In the Indian domain is Riaad 'Strictly Halaal' Moosa, star of the South African 2013 movie hit 'Material'. A Moslem and a medical doctor who practices as a comic he delves where even the most orthodox can't help smile. "You know, I qualified as a medical doctor after studying for six years, I did my internship and my community service. Now I'm telling jokes. My Indian family is very proud."
Rabinowitz also had a role in 'Material', filmed in the Moslem precinct of Fordsburg in Johannesburg. He says he's hoping to star in the sequel. "This time round," he says, "it will have a more Jewish setting, like Investec."
The stand-ups leave no avenue unexplored, including Empire Road near Joburg's inner city, which Mark Banks warns is not an ideal venue to meet your dealer. "Empire Road is particularly tricky because it's so busy," he says. When it is suggested that the magazine on South Africa's national carrier is not the best forum for drug talk, he says "Drugs, what drugs? I'm talking about trying to get a Victorian hat stand through the window at rush hour!"